The world we live in can be full of triggers that can interfere with how you feel about your body. If you're having a "disrupted," or tough, body image moment, read on to learn tips on how to deal with it and work towards more peace.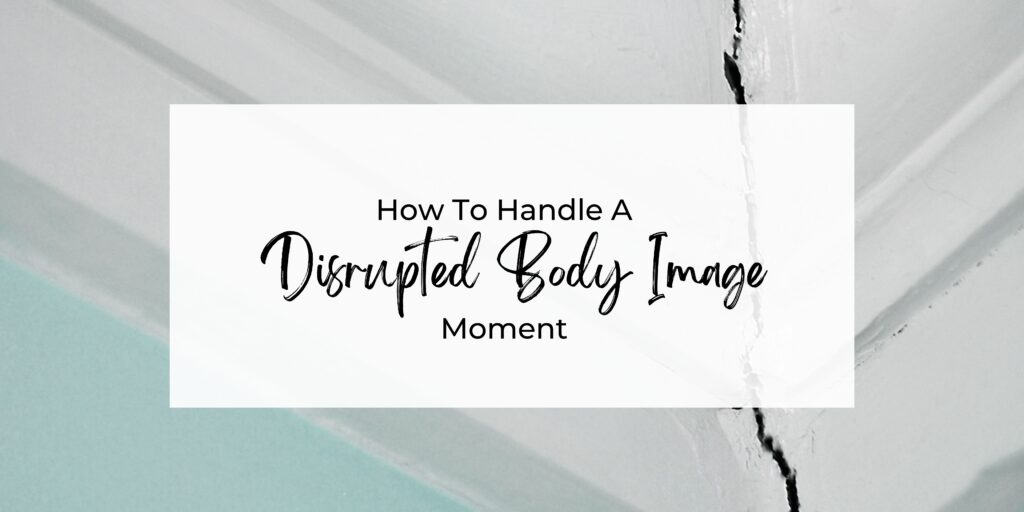 In my work with clients, I have the privilege of hearing how they feel about food, eating, and their body image. When I ask them if they'd share how they feel about their body, a whopping 85% of my clients feel negatively about their bodies. Some also feel hatred towards their body.
The sad truth is that they are not alone. Research suggests that 1 in 5 adults struggle with a negative body image at some point during their lives. Even more concerning is that 90% of American women will put their health at risk by dieting and restricting food in an effort to change their body. And, in today's diet and weight-centric culture, it appears body image is worsening for many.
I think it's important to acknowledge these statistics so that we can understand how normal it is to have a tough body image moment. Are they difficult to manage? Absolutely. And they can feel jarring, overwhelming, and even scary if bad body image takes over a person's day. But we can deal with these moments better and even build resilience towards them by implementing a few tangible strategies to make ourselves feel more comfortable and get through the day.
5 Tips To Handle A Disrupted Body Image Moment:
Acknowledge the thought.
Because that's exactly what is happening – a thought, not a truth. As humans, we have this incredible ability to let a thought feel like it has an enormous amount of meaning even if it doesn't. Allow yourself to see that this is a disruption in the body respect or acceptance you are striving for. It will pass, and it does not need to carry any meaning further than that.
Get comfortable.
This is key, and I cannot stress this enough! Start by changing your clothes, and choose items that do not hug your body tightly. If you have to attend a function, dress in a way that allows you to move comfortably without feeling restricted, and maybe choose an accessory that can make you feel stylish.
Also, consider other things that may make you feel good. What about taking a shower or a bath? Or how about drinking some water? Would it help to wrap up in a soft blanket and close your eyes? It may be helpful to consider how you've been taking care of yourself lately to identify if any gaps have occurred.
Avoid body checking behaviors.
Body checking behaviors are ones that bring us out of our body and into a place of judgment, shame, and blaming our body. It's best to avoid these for a little while during a disrupted body image moment, or at least until you can feel more acceptance towards your body.
For starters, stay away from the scale during this time – I guarantee it will not make you feel better, and it won't help you validate anything! Also, consider avoiding mirrors or anything that shows your reflection for a little while. Instead, focus on how you feel in your body, or how comfortable you feel in your clothes.
Move your body.
Specifically, move your body in a gentle way. This could be something like stretching, taking a walk outdoors, dancing in your living room, etc. Movement can help us get rid of that stagnant energy, and can distract us from those negative thoughts. And moving your body may also help you practice gratitude for the things your body allows you to do.
Consider a social media break.
There's a lot of evidence that social media can contribute negatively to a person's body image. Seeing scantily-clad influencers discussing their latest diet or workout routine is a major comparison trap. Try putting your computer or phone aside for a period of time, while you bring your focus to something that feels more neutral. If this feels challenging, try setting a timer for an hour or two. When the timer goes off, consider how you're feeling about your body image, and then decide if getting back to social media would feel useful or not.
Want More Support?
If you are wrestling with negative body image and a difficult relationship with food, you are not alone. This work is vulnerable and brave, and you are deserving of support and kindness.
If you'd like support while working towards body respect and freedom with food, please reach out to me. Follow this link to set up a free inquiry call to see if nutrition counseling is right for you and if we're a good fit.